Collision control and buildability analyzes
Collision control reduces unforeseen costs by 40%
Lack of coordination and thus collisions as well as poor buildability in construction projects are without a doubt the source of extra costs and large budget exceedings in many construction projects.
But just calm down. These are some of the lowest hanging fruits you can pick.
With systematic collision control, you can quickly reduce your unforeseen costs by 40%.
Many errors in 3D models that give rise to collisions are not discovered until construction is already underway and it is too late. This means that the consultant must be contacted, the drawings must be updated and new deliveries ordered. It causes expensive quick fixes and disruptions in the schedule.
Insight into the designers' performance
The solution to the problem starts with a matching of expectations between the client, consultant and contractor. Here it must be determined what detailing the 3D project must have and who ensures that the coordination is achieved. After this, it requires ongoing follow-up during the design to ensure that the quality follows the plan.
Read more about 3D models in construction here.
This should be done with the assistance of our independent team. In this way, we ensure focus and progress while at the same time giving you as the client or contractor unique insight into the designers' performance. It's all reported in easily accessible digital dashboards – and it's up to you whether you e.g. will be updated weekly or if once a month is sufficient.
Automated collision control
The unique thing about our method is that we have done all the time-consuming work automatically. This is done by pre-programming hundreds of rules that sort the critical collisions from the trifles and divide the collisions by area of the building. This means that a collision check others have to spend two weeks on, we carry out from day to day.
We can carry out the control for you; all you have to do is to give us access to the developed 3D models, e.g. via a project web. You can also start by examining the number of collisions in your construction project yourself.
ROI well over 20
We can also carry out more advanced buildability analyzes and operational checks. For example, we can automatically check whether sockets have been designed behind the radiators, whether there is room for installation or replacement of filters in the ventilation system and motors in a Conveyor system, as well as many similar challenges.
This type of analysis typically requires a little more advanced configuration and rule setup, but we have several customers where the business case in the implementation has an ROI on the other side of 20.
We are also happy to help you
Carrying out a collision check can be like balancing on a knife's edge. You do not want to expose designers out, but you also know that it is crucial for the quality and economy of the project, to find and remove those risks.
As a neutral partner, we ensure a good tone, with a focus on good and constructive cooperation between all parties.
Contact us for an initial dialogue.
Contact:
Kristian Birch Pedersen at kbp@exigo.dk / +45 53 55 59 19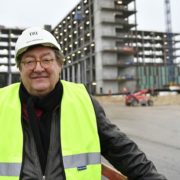 "When the client ensures the buildability and consistency of the tender material before tendering, it is a completely new form of external control. It works really well, and you avoid having to raise extra money for the project when it is under construction. This is one of the advantages of the owner being able to make this independent check."