Sustainability and digitalization
Sustainability is a positive side benefit of digitalization
With digitalization, we have been presented with a number of methods that optimize our construction process in terms of time, finances and quality. What has proven to be a positive side benefit of several of the methods is that they also have a significantly lower CO2 emission. One of the methods can e.g. reduce your CO2 emissions in connection with site operation by up to 20%.
If you want to work actively with the methods and the documentation of them, we can teach you and your team. If you want to focus elsewhere in your business, you can also ask us to perform the methods and documentation for you.
Read more about sustainability and digitalization on this page.
Also read about Exicute dashboards, which provide an overview of time and resources in the construction process here.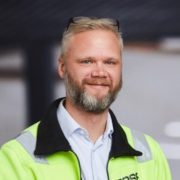 "Better planning can always improve construction also on sustainability. However, my experience is that with good planning you do not have as many oopses. In relation to sustainability, more effort must be put into the design and thinking differently where to start designing according to the 3M principles again and thus utilize the standard dimensions of the building materials. And thus avoid the large amounts of waste that occur in the construction industry. "
Sustainability and Digitization
– three effective areas for action
LCA
– Life Cycle Assessment calculations based on BIM
Less waste with better construction management: Location-based scheduling
Optimize time and save the environment from unnecessarily large CO2 emissions
Life Cycle Assessment (LCA)
Life Cycle Assessment (LCA) / life cycle calculation is a calculation method that can be used to assess the environmental impact of a building. The calculation includes both the construction as a product, the services performed in connection with the construction process, as well as the resource consumption associated with this.
LCA is included in European standards for sustainable construction, 'Construction Products Regulation' (CPR), and in the certification schemes for sustainable construction. The LCA is also a focus area for sustainable construction in the danish government's political strategy from 2014.
LCA calculation based on quantities from 3D building models
As something new, the Exigo LCA calculation is based on quantity extracts from 3D building models. Thus, the LCA calculation is performed efficiently and with great precision.
An LCA calculation performed prior to the construction can be used both to create an overview and optimize a building's environmental impact. A calculation after construction can document the construction both as a "product" (environmental impact from resource consumption in connection with material choices) and process (environmental impact from services in connection with . execution).
The result of the climate calculation is a detailed report, which accounts for the building's CO2 emissions.
We can help you ensure that the quantities regarding your project are correct. Read about our quantity verification here.
Reduce time in your construction project and cut back on CO2 emissions.
Sustainability in the construction industry is not only focused on materials. There is a direct causal link between the quality of the planning for a construction project and the project's waste and CO2 emissions.
If the planning of the construction project is a linear and inefficient process, the execution will also be inefficient and entail large amounts of waste of materials, time and resources – which, after all, results in a far greater emission of CO2 than necessary.
Thus, an acceptance of the current industry trend for deadline overruns on construction projects is a direct acceptance of unnecessarily large CO2 emissions.
At Exigo, we work with optimization of the construction process and time planning. On average, we spare our customers approx. 20% of the planned time set aside for a construction project. This gives days, even months, saved where the construction site would otherwise have to run at full pressure. And it can be seen on the carbon footprint.
Sustainability and Digitalization
– We are also happy to help you
There are many actors within sustainability in construction. We help you sort through all the options, and present you with the measures that have been proven to reduce CO2 on your construction site.
We are happy to come by for a non-committal talk, where you can utilize our expertise and get feedback on your construction case.
Write or call Kristina Ekkersgaard and she will book a meeting in the calendar for you: +45 53 55 59 05 or ke@exigo.dk